Melvin & Mildred Banks Gallery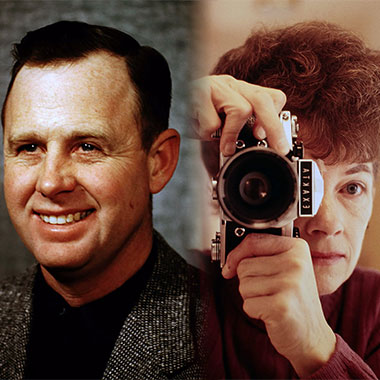 The Banks Legacy has been established to honor Mildred and Melvin Banks, longtime Boone County residents. Mildred's passion for photography was enjoyed most when her slides and photos were shared with others. The Legacy ensures that her view through the lens will be seen for years to come. Melvin's love of the land and interest in county conservation will also be remembered through the Banks Legacy in the updated Boone County natural sciences room, aptly named, "The Melvin and Mildred Banks Gallery of Boone County Conservation".
MELVIN BANKS
Melvin L. Banks was born near Kirkland, IL in 1917. He lived over seventy years farming just south of Belvidere before moving there as he retired from agri-business. Brought up in a grain and livestock farming operation he attended both the Univ. of Illinois and Northern Illinois University. He had been owner/operator of P.A.G. (Pfister Associated Growers) Garden Prairie Inc., and co-owner of Garden Prairie Grain Company. He also served as a Board Director of P.A.G., Inc. then located in Aurora, IL.
For twenty-two years Melvin served on the Board of Directors of the Belvidere National Bank and Trust Company. He was a founding board member for the Boone County Conservation District and was named President of the Conservation District three times during his sixteen year tenure. Formed in 1964, the BCCD was the first conservation district in the state. Melvin was also a charter member of the Kirkland Lion's Club.
Married to Mildred Banks since 1939 he enjoyed the worldwide travel they shared. He was a long-standing member of Bel Mar Country Club in Belvidere and loved to golf.
MILDRED BANKS
Mildred Irvin Banks was born in 1918 in Brookville, Illinois. She spent much of her youth in Poplar Grove where her father managed the Farmer's Co-Op. His gift of a camera when she was just a teenager was the beginning of a lifelong love of photography. After graduating from Belvidere High School in 1936 she met Melvin Banks, a DeKalb County farmer, at a Paulson barn dance in Boone County. They would marry in 1939. Melvin helped set-up Mildred's first dark room on the farm where she learned to develop black and white prints until the advent of Kodachrome color film. She was an active member of the Rockford Lens and Shutter Club, the Exakta Camera Club in Belvidere and the Vistoso Photography Club in Sun City, Arizona. Annually she entered the photo competition at the Boone County Fair where her photography was honored with many ribbons including "Best of Show". Ten of her photo enlargements grace the Keen Age Center's permanent art collection in Belvidere. Several of her Midwest barn photos appear in the book, "Barns of Illinois: A Pictorial History" by Harry Porter and many other photos were printed in "Kodak Movie News", the "IAA Record", the Bow'an Arrow", the "P.A.G.e" magazine as well as Alpine Bank's annual calendars. Her desert photography also graced notecards used by the Sun City Vistoso Corporation in Arizona.
Mildred and Melvin were avid travelers and were fortunate to see much of the world during their 67 year marriage. Melvin was an active participant in Mildred's hobby, driving her to photo sites and transporting her varied collection of camera equipment. He was her most ardent fan. Her scenic shots and people portraits taken in exotic locales as well as the local countryside were incorporated in over 300 slide presentations for churches, clubs, schools and nursing homes throughout Boone County and Rockford. At her passing in 2014 her photography collection consisted of over 45,000 slides and thousands of prints and enlargements. All of her work predated the digital revolution in photography so each was manually manipulated for the best possible exposure. In life Mildred found true happiness through sharing her photography with friends and strangers alike.
The Melvin and Mildred Banks Gallery of Boone County Conservation
Mildred Banks Photography Collection
These slides are just a sampling from her photo collection of over 35,000 plus slides and prints. Many of these photos were taken as "assignments" for various Belvidere, Rockford and Tucson camera clubs. Others were original art experimentation or Boone County Fair entries. A series of photos were often taken at different manual settings or even on different days to achieve specific lighting, color or composition in the photo. Mildred would then compare these duplicates to find the "best" shot. Enjoy! The collection can be seen by individual photo or as a grid.